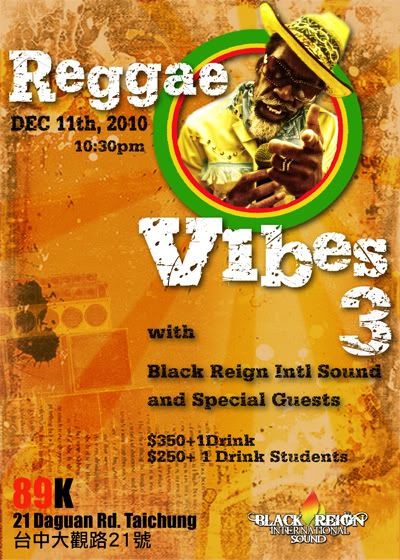 12/11 - REGGAE VIBES #3 @ 89k [Taichung]
Get ready for Reggae vibes 3 the last show of the year at 89k.
Black Reign Intl Sound will play in Taichung mixing the best reggae dance hall,Lover's Rock, Roots, soca and more…alongside some of Taiwan's best reggae Artists.
Djs: Mighty Lion [Jamaica]; Selectah Zion [France] ; Taili [Martinique]
SInger: Sunny Small ; Splendor ...
Time: 22:30PM
Door: 350NTS + 1Drink + good vibes
Students: 250NTS + 1 [please show your ID student]
Adress
: 89k - Taichung 21 Da Guan Road 大觀路21號
2010年台中最後一場雷鬼趴!
Black Reign 秉持對雷鬼樂的執著,帶來最純的dance-hall
Lover's Rock, Roots, soca等各類型快,慢板雷鬼樂。特別邀約台灣雷鬼藝人們一同演出。12月11日 – 準備好來雷鬼歡送2010年!
...
時間: 22:30 晚
門票: 350元(含飲料一杯)
學生優惠價: 250元 (含飲料一杯) 請勿必出示學生證)
地址: 89k大觀路21號
Islandjam